 It all started in the '90s, when the researchers at the Consorzio Italiano Vivaisti (CIV) focused their studies on red apples. The aim was to produce a new variety with a modern flavour and an ecologically responsible approach.

Thanks to the considerable work and passion of bold and dynamic people and respect for biodiversity, the new Civg198*/Modì® apple was born. It was the natural result of crossing the Liberty and Gala varieties to yield crunchy, juicy flesh with just the right amount of sweetness.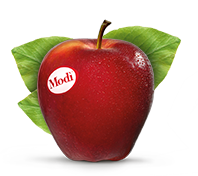 Let's Go Global
The first group of European specialists in apple production and processing was established in Italy in 2007.
With a strong team spirit, these specialists embarked on a project with the aim of developing the Modì® brand on an international level.

The result has seen a global production network that respects territorial and local aspects, with a sustainable agricultural approach that ensures it meets consumer needs and expectations.
Ethically.

Love Nature, Love Modì Apple.
Our organisation is founded on a human and social dimension in which every individual represents shared values.

Honesty
A transparent and linear approach, in terms of the ability to recognise one's possibilities, potential and responsibilities whilst at the same time respecting one's limits. A desire not to deceive, and a quest for authenticity and awareness.

Fairness
Working legally in compliance with the legislative system, rules and agreements currently in force, both towards internal and external components.

Simplicity
Building and maintaining genuine and cordial human relationships, day after day.

Sharing
Enhancing expertise and creating a better future together.
Respecting people
from the producer, employee and community standpoint. Respect for customers and consumers: paying attention to the needs and expectations of those who use the products, with a view to constantly improving the perceived quality of the service and the product bought.

Respecting the environment
ensuring farming practices are improved and innovated, along with transformation processes and logistics, with a view to achieving environmental, social and economic sustainability. Because respecting the environment not only means preserving it, but actively helping to develop the territory.

We love nature and we are trying to create a better future.

Our supply chain:
Creating Valuable Transparency.
Forecast

1,000
Hectares

30,000
Tons
The Value of Team Work
The Modì® International Project is being developed to create a network which brings together the supply chains of Europe, Turkey, Serbia, Russia, Uruguay, Australia, New Zealand, Latin America, and the United States which share values and technical expertise. The end goal is to offer consumers a unique apple with a modern flavour and a high, constant qualitative standard.
People and Territory
A team guided by innovation, commitment and passion involving all the players, from nursery owners to producers and market professionals, in a project to create a single chain of value which respects the human, social, and territorial dimension.

Partner Companies